Today is Safer Internet Day 2018 and this year's theme is "Create, Connect and Share Respect: A better internet starts with you"
---
Latest research
New research commissioned by the UK Safer Internet Centre found that in 2018 the internet plays a pivotal and positive role in how young people develop relationships and revealed that young people are more likely to have a positive experience than a negative one when online.
Of the 2000 8–17 year olds surveyed, 78% said they believed every person on the internet has a responsibility to be respectful to others. Schools play a key role in promoting online safety and it's positive to see that 72% of the young people surveyed wanted their school to teach them about cyberbullying and how to manage friendships online. However, 1 in 10 did report that they had not been taught this in school.
Safer Internet Day is a good time to explore the wealth of resources available to schools and review the training and messages delivered to all stakeholders, including SLT, teachers, governors, parents and of course, young people.
---
Useful web links for schools
The following web links take you to just some of the useful sites containing advice on delivering the #ItStartsWithUs message.
UK Safer Internet Centre – promoting the safe and responsible use of technology for young people
NSPCC – lots of resources including lesson plans and draft policies
Impero – a comprehensive online safety handbook and links to other helpful educational resources
Why not also take this Safer Internet Day quiz and see how you fare.
---
Recommended product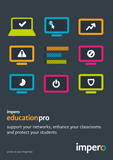 ---
If your school would like to discuss eSafety in detail, please contact the ICT Service Desk on 0345 222 1551 • Option 1 or email ictservicedesk@schoolbusinessservices.co.uk.
More information
See our recent blogs about ongoing issues for more advice on how to protect your school from virtual threats: