Have you heard about the next generation of SIMS?
Capita SIMS announces a major refresh and have completely redesigned its SIMS system from the ground up.
The changes start with the release of a redeveloped version of SIMS for primary schools in Spring 2018. This will be followed by the MIS for secondary schools, independent schools and a revised school finance solution.
---
Phil Neal, customer advocacy director at
Capita SIMS
and one of the original creators of SIMS said:
"We went back to basics and looked at every task a teacher or school leader had to carry out in school and what information would help them complete these tasks easily. We then went about designing these features into the software so teachers would not need to spend time pulling data out of systems. Instead, SIMS will present teachers automatically with what they need to know about their pupils, and heads will instantly be able to access all they need to know about their school without having to go looking for it. Our aim is to help schools have all the information they need to improve pupil outcomes."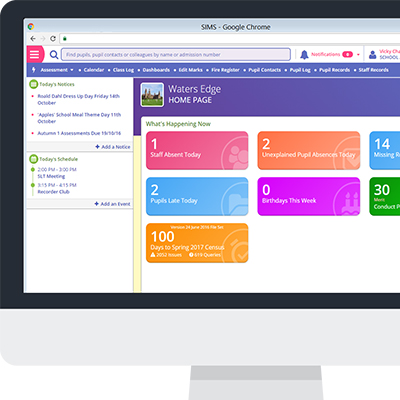 ---
The reimagined versions of SIMS will be developed in the cloud meaning they also offer schools the ability to access the system from any device, with automatic data back-ups and upgrades. In addition, using the cloud removes the need for onsite servers and maintenance, saving time and money.
Further details relating to new features and enhancements will be released to schools over the coming months. Schools can register to receive these updates at www.capita-sims.co.uk/reveals
---
Should you wish to discuss further or require any additional information please do not hesitate to contact us on 0345 222 1551 • Option 3 or email misservicedesk@schoolbusinessservices.co.uk