SBS is pleased to announce the launch of our new responsive website, designed with a new look and user-friendly navigation. We've refreshed the website content and structure so you can get a real feel for the different range of support services we offer to schools and academies.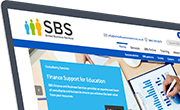 We will soon have dedicated blog for each of our expert teams so we can keep you informed on what we're up to and any important news we think is worth sharing. The current SBS ICT Updates blog will soon be moved to within the site and we anticipate a smooth transition with no changes to how you receive updates. We will also be introducing dedicated blogs for getting the most from your pupil data in SIMS, and effective school budget management.
Our new site gives us a fantastic platform to build on as we aim, as always, to continue to develop our services and engagement with our schools. With the increased use of mobile devices our site has been optimised for smart phones and tablets, which means that all of our visitors should be able to access our content on the go.
If you have any questions or comments on the new site, please get in touch!
www.schoolbusinessservices.co.uk