Vision for Technology in Education Conference – Monday 9th February 2015
Microsoft are running a joint ICT conference with School Business Services specifically designed to help school leadership teams understand how to embed new and upcoming technologies within your schools. The event is free to attend.
Book Now: Vision for Technology in Education Conference – Monday 9th February 2015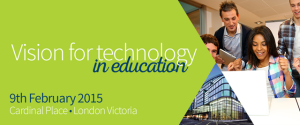 Whether you are looking to improve your current ICT infrastructure, planning new technology procurement, or simply want the latest news on Microsoft educational products, this conference is for you.
SBS is delighted to announce the confirmed guest speaker as Jenny Smith, Frederick Bremer School's Headteacher from the popular Channel 4 programme 'Educating the East End'.
Who should attend?
Headteachers • Principals • Deputy & Assistant Headteachers • Business Managers and technology leaders such as ICT Co-Ordinators
The event will include presentations from experts on:
Frederick Bremer's ICT and SIMS journey – Jenny Smith
• Developing your ICT strategy
• "Anytime Anywhere" Learning
• Planning your ICT budget effectively
• Windows 8 in education
• Data management and assessment 'life without levels' in SIMS
• Office365 for education
The content has been devised to be most relevant to staff in schools who want to make a difference and embed ICT to deliver the best teaching and learning experience possible. Vision for Technology in Education is a FREE conference which will include refreshments and lunch at our Microsoft offices in Victoria, London. We anticipate that this event will be oversubscribed so book now!
Book your place here  – http://www.eventbrite.co.uk/e/vision-for-technology-in-education-tickets-13256280893