School Business Services' education-specific teams specialise in Finance,
MIS and ICT.
Our professional services include short- and long-term cover for finance and data staff at all levels, along with management accounting, internal scrutiny and timetabling.
Our financial forecasting and planning software SBS Budgets is used by over 2,000 schools and 200 MATs.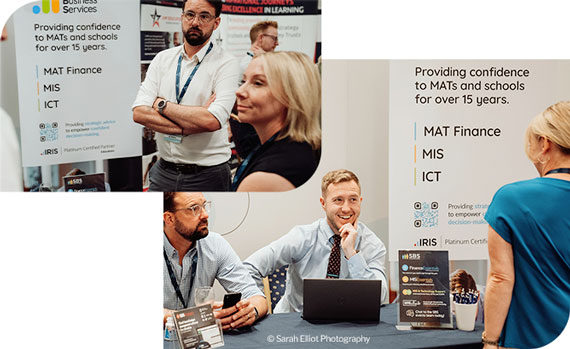 Our Values
Expertise
We have high expectations of ourselves and others. We invest in developing our knowledge to deliver best-in-class systems and support.
We draw on experience and embrace change to achieve our best.
Integrity
We do what we say we will. We are open, honest and offer unbiased advice.
We treat our customers and each other with respect.
Collaboration
We put the right people in the right places to deliver the best outcomes for our customers, whilst providing opportunities for individuals to realise their potential.
Our Social Values
At SBS, we are committed to making a positive social impact on the communities we are part of and that we work with.
As a business providing services to schools, we are proud that our work ultimately supports the outcomes of children. Our staff are passionate about providing support to our school customers which enables them to focus on the delivery of education, improving the lives of young people.
Communities
We build strong and meaningful relationships with our customers. Our staff regularly participate in events and activities that help promote the wellbeing of school staff and pupils to build a positive and happy environment.
Fundraising
Every year we nominate a chosen charity and participate in varied fundraising events throughout the year. Our staff get to know the values and mission of the chosen charity through our internal awareness raising. In the past we have supported Julia's House, a Children's Hospice and SHINE, a young adults cancer support charity.
In 2021 we are proud to be working with The Honeypot Children's Charity, which provides support to young carers.
We raise funds in a variety of ways such as coffee mornings, cake sales, tombolas, auctions, etc. In the future, we are looking forward to providing assistance with some practical activities, such as gardening and DIY.
Staff wellbeing
The physical and mental wellbeing of our staff is our priority, and we support our colleagues in a variety of ways, including:
Mental Health First Aiders
Employee Assistance Programme
Buddying
Flexible working
We foster a supportive culture, reinforced through regular informal catch-ups, an open-door policy at all levels and a strong ethos of openness, positivity and honesty.
Care for the Environment
We have been proud to hold ISO 14001 for over 4 years. This ISO standard for Environmental Management, requires us to set, regularly review and achieve or exceed targets and objectives across many environmental aspects. Our ultimate business goal is to make decisions which are not detrimental to the environment and ultimately reduce our carbon footprint.
Investing in our team
At SBS we are passionate about investing in new and existing talent. We have a track record of recruiting and developing university graduates and international interns.
For the development of our team we have industry recognised qualifications and CPD for staff including industry recognised qualifications Association of Accounting Technicians (AAT) and Chartered Institute of Public Finance and Accountancy (CIPFA).
School governors
Many of our team are voluntary co-opted governors or chairs of governors in local schools of all phases. This gives SBS staff an opportunity to contribute energy and expertise to the local community whilst learning about the latest priorities and challenges of parents, teachers and SLT.