Do I really need a Chromebook Trolley?

A technological shift is underway across classrooms throughout the United Kingdom. With the many Chromebooks that have been provided by the DfE the question now is how do I secure these devices for the general use when schools return to normal?
Google's apps for education and the affordable price of each device make this option very attractive, but the low price of the devices leaves some wondering whether they can justify the cost of purchasing Chromebook trollies to charge and secure the devices. Some schools are hesitant to purchase charging trollies that can accommodate Chromebooks, as they view these carts simply as a power source.
While each education environment is different, security, charging capability, safety, mobility and even cable management should be at the forefront when deciding on whether or not to purchase Chromebook charging trollies. When weighing up the associated risks and the relative longevity of a DIY solution, you may find that the materials and labour associated with putting together a truly effective, safe, secure charging and storage solution may be comparable to the cost of a mobile classroom cart. Consider the following before deciding to forego Chromebook charging carts entirely.
Protecting the School's Assets
It seems logical to assume that devices will be safe inside a locked room. However, a locked classroom should be considered a second line of defence. In many instances, teachers may forget to secure their classroom before they leave, especially if they intend to return shortly. Walking away, even for a moment, leaves the Chromebooks exposed. A secure trolley that will house all of the devices is truly the safest environment. By storing all the Chromebooks in a trolley, you can keep track of each computer and guarantee that only certain individuals will have access to the devices when they are not in use.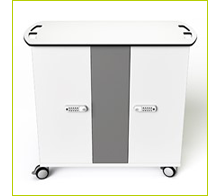 A secure charging cart doesn't just protect the Chromebooks. The theft of device chargers is a larger concern than theft of the devices in some schools. These essential components can be costly to replace, so maintaining their safety is of utmost concern. By housing the chargers and Chromebooks in a cart, you will not have to worry about theft. Investing in a quality cart will ensure your school's purchase will remain safe and secure.
Get in touch today
Please contact the ICT Service Desk on 0345 222 1551 • Option 1 or email ICTservicedesk@schoolbusinessservices.co.uk
---