Are robots the future of customer service?

Customer satisfaction and optimising the customer experience should be at the top of the agenda for any business and SBS is no exception. Although this week is Customer Service Week we aim for great customer service in our support to schools every day.
The future of service delivery
Due to technological advancements there are some interesting developments on the horizon across the business world. It's almost impossible not to stumble across a feature about Artificial Intelligence (AI) and the inevitable impact on the way businesses will deliver their services. It is
predicted by Gartner
that by 2020, customers will manage 85 percent of their relationship with a company without interacting with a single human.
Artificial Intelligence (AI) in day-to-day life
As consumers, our interactions with AI are becoming more commonplace, even if we are not consciously aware of it. For example, when was the last time you had to actually call your mobile phone provider? If you went on their website and clicked 'Chat' there's a good chance you were communicating with a chatbot, a program designed to simulate conversation with humans. Remember the MS Office paperclip? The chatbot is really just a later iteration of that. Our familiarity with those pesky 'Clippy' interruptions demonstrates how easily AI became a part of day-to-day life.
Enhancing our service
So how might AI impact what we do at SBS?
At the core of our company and central to all of the services we offer are our Service Desks. Consistently scoring high in customer surveys and always receiving great feedback, we are justifiably proud of them and we feel strongly that their success lies in the people we have at the end of the phone. Not only are our Service Desk advisors experts in their area, they are effective communicators who understand the SBS customer. They seek to build relationships because they know it makes for a better experience for the customer, and for them.
However, a quick look at the quirky
willrobotstakemyjob.com
website suggests that the 'Robots are watching' front line Service Desk staff, with a 55% risk of job automation.
Does this mean we should be revolutionising our support with automation?
The answer is no, not revolutionise and automate, just continue to evolve. A chatbot or similar will never
replace
our Service Desks because we don't just tell you the how, we explain the why. However, there are other ways that we can improve our support to you, particularly through online access to information and we are committed to enhancing our service in line with your needs.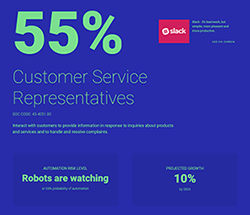 https://willrobotstakemyjob.com/43-4051-customer-service-representatives/
SBS commitment to service
At SBS we ensure that we listen to our schools so that we understand their requirements. Our commitment to service underlines our approach; hearing and responding to feedback helps us to continually improve. You can see more about our commitment to service and our five company values
here
. Got something to tell us? Please
contact us
. Follow SBS on
Twitter
for more coverage during
#customerserviceweek