End of Key Stage Processes

The sun is shining, quick, get the BBQ out! Oh, and do your End of Key Stage Processes!
It's hit June, we're getting hot weather and it's finally looking as though Summer is arriving. Time yet again for getting your End of Key Stage information off. The 'wizards' for carrying out this process will have been imported into your system as long as the AMPARK import was run following your most recent upgrade. For schools we support this will have been carried out for you as part of your upgrade. Capita have released an update to the KS1 and KS2 wizards as there were found to be issues with the originally released files. These updated wizards are being imported into your system if we support your school for SIMS but for any other schools you will need to speak to your support provider to get these imported.
To complete your End of Key Stage Process using SIMS please follow the steps below.
Consider the groups to include in the process and import the Key Stage wizard(s) relevant to the specific groups from the AMPA folder.
Select Tools | Performance | Assessment | Wizard Manager and select the required Key Stage Wizard(s).
Select the Pupil/Student group - the wizard displays the relevant Key Stage marksheets.
Open each marksheet to add/edit results.
Validate the marksheet entries as required (refer to marksheet notes).
Correct any incorrect entries then save and exit the marksheet.
Generate, preview and print Individual Reports.
Export Key Stage Data, if required.
See below to download full documentation on carrying out these processes.
Download now!
If you would like help on completing these processes or being trained on how to carry this out, we can arrange for a consultant to come on-site using either your SLA time, or by purchasing additional time. Alternatively, you can take advantage of our remote End of Key Stage Service.
---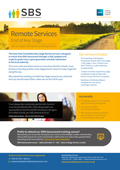 School End of Key Stage Service
Our service is designed to ensure that SIMS Assessment Manager is fully updated and ready for grade entry, report generation and data submission to the local authority.
Download PDF →
Prefer training? →
This service includes:
The importing of all relevant assessment wizards (EYFS, Key Stage 1, Key Stage 2, Year 1 Phonics and Year 2 Phonics re-take collections as appropriate)
Creation of all the required key stage marksheets ready for data entry, by Year Group and Class as required
Readiness of Individual Report templates for end of year reporting to parents
---
As always, if you have any issues, or wish to book any services, remote or on-site, please contact us by calling
0345 222 1551 • Option 3
or email the MIS Service Desk
misservicedesk@schoolbusinessservices.co.uk
.