National Teaching Assistants' Day 2020
Posted
11th September 2020

Nominate your lockdown heroes
This year the annual Teaching Assistant of the Year competition is all about celebrating those Teaching Assistants who have been heroes throughout the pandemic.
We have heard great examples of Teaching Assistants supporting the children of key workers in school, and staying in regular contact with pupils at home, supporting their remote learning and general wellbeing.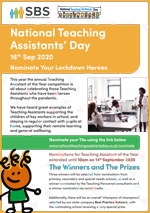 For more information and to nominate your lockdown hero simply download this flyer.
Download now! →