Promote wellbeing and learning with our partners Thrive

Reducing the impact of lockdown on your students.
The Thrive Approach® offers practical tools and training to promote wellbeing and help prevent mental health issues for all children and young people:

Thrive-Online® is a web-based profiling and action-planning tool that enables you to measure and monitor progress.
Interactive webinar training equips you with knowledge, insights and resources to proactively support the wellbeing of all children and young people.
Take advantage of Covid-19 catch-up funding and/or Pupil Premium to invest in Thrive and unlock your Recovery Curriculum.
---
Start your Thrive journey today - join a FREE Awareness webinar
Book your place →
Plus! Take advantage of our introductory offer*:
The Thrive Approach for Senior Leaders course, providing insight and a strategic overview, at a promotional price of £425 (plus vat)
Thrive-Online web-based software package – FREE 30-day trial
Thrive Together induction training materials to share with your team - Module 1 FREE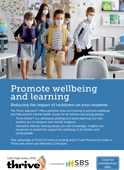 For more information about Thrive and to see offer *Terms & Conditions
please download our flyer
.
---
If you would like to find out more about how the Thrive Approach can be used as part of Coronavirus catch-up funding contact the team on 0345 222 1551 • Option 5 or email hello@schoolbusinesssservices.co.uk