TeamSOS Heron Way Primary School case study
Posted
13th December 2021

Guest blog from teamSOS
An inspiring example of how a primary school replaced radios with teamSOS and revolutionised their on-call incident management processes, sped up their response times and improved staff and student safety and well-being.

A bit of background
James Crump is the Head Teacher of Heron Way Primary School, a two-form entry primary school in Horsham West Sussex. Heron Way Primary School has always relied on radios to manage their on-call response. Where they have specific incidents that require additional supervision – radios were used as a direct link to the School Office and SLT.
We know you're up to our eyes in planning for September, whether it's around Covid-19, Safeguarding or Cybersecurity.
"Radios broadcast indiscriminately so more staff respond than are necessary. Most importantly anyone on the same frequency or nearby the radio can overhear exactly what is being discussed which impacted our ability to comply with data protection law."
The problem with radios
Whilst radios met some of their needs, James identified the key problems as:
Open, public radio frequencies

– regular false alarms wasting staff time on incidents that didn't exist and hindrance when dealing with real incidents
Delays in response

– they struggled to get the right person or team to the scene of the incident losing valuable time
Distinct lack of privacy

– indiscriminate broadcasts during an incident that didn't protect the rights of students and staff
No triage options

– they had no way of establishing what or who was needed before arriving at the scene
No evidence

– there was no record of the steps taken, or conversations that had taken place to manage and resolve the incident
Looking back at the pandemonium in schools when the pandemic hit James recalls
"I realised quite quickly we needed more radios than we had to help coordinate and manage our response which would not only take time to arrange but also use up valuable budget"."
James decided to use a well known messaging app to fill the gap; he amended their strict mobile phone policy to have a 'crisis/emergency exception' allowing staff to use their mobile phones in an emergency and amended the 'acceptable use' section outlining what staff should and should not share via the app. Whilst it worked fine, James wanted something that would strengthen data protection and safeguarding so he began looking for an alternative.
The challenges of replacing radios
James admits "Our biggest challenge was how to provide ALL staff with a way to report incidents, ensure the right response teams were alerted and have a history of what happened during the incident without spending a fortune". James wanted an on-call response solution that would:
Ensure all staff feel safer and more supported
Reduce response times and improve the quality of response
Provide a comprehensive log of each incident
Ensure data privacy
Work on any device, anywhere
The solution
Heron Way Primary School chose teamSOS because in James' words "teamSOS has the ability to be a messaging, crisis management, first aid response service – we use it for all of those things".
All staff at the school are now benefitting from a simple app that provides:
All staff with a simple, effective way to 'call for help'
Time-saving hunt group technology that ensures the right responders are sent to the scene
Two-way communication via text, broadcast and push-to-talk technology with speech to text functionality to maintain privacy
In-app task lists to follow during an incident ensuring consistency in their response
Seamless access to first aid videos to provide support with a medical emergency
Highly secure access to a privacy driven messaging app for all staff
The ability to send announcements to all staff and even ask for acknowledgement
A complete history of the incident that can be exported or written back to other key systems such as their CPOMS safeguarding software
Anytime, anywhere access from any device, even personal bluetooth panic buttons
teamSOS integrates seamlessly into the school office providing a desktop management console from which to manage the system, create incidents, message staff, and send announcements much faster than their old systems and processes.
James recalls "We even used it to let staff know where there was petrol during the recent crisis… in all seriousness that's how useful it is!"
Outcomes
Speaking about their use of teamSOS James commented "Yes, it's a crisis management tool, but it's also provided us with a great tool for staff to just share feelings, thoughts and even jokes throughout the week. It's a good conduit for building the team and giving everybody reassurance they they're not working in isolation and there is a team around them."
James agrees that since implementing teamSOS:
Staff feel safer, happier, and better supported
Incident response times have been significantly reduced
Consistency and quality of response have greatly improved
Administrative burdens around incident management and reporting have been removed
Reporting of incidents to parents no longer relies on staff recollections of what happened
Privacy is at the heart of the school's on-call response and day-to-day management
The school's advice for other schools considering teamSOS
teamSOS is specifically designed for safe and secure use on personal devices in an emergency, and on school computers, ensuring that sensitive school data is only held centrally whilst ensuring your staff have fast access to help wherever they are.
Because of the critical role that teamSOS fulfils, James emphasised the importance of planning the implementation :
"Be explicitly clear on what you want teamSOS to do for your staff before you start rolling it out. Make sure you test the app with a small group that reflect the different roles in your school, allowing them to have confidence and trust in it." Once that confidence and trust has been established then James' view on how to move from legacy radios to teamSOS was altogether swifter "Set a date and make the jump," he said, "use it for everything it offers, you won't regret it!"
"It's a good conduit for building the team and giving everybody reassurance they they're not working in isolation and there is a team around them. We even used it to let staff know where there was petrol during the recent crisis… in all seriousness that's how useful it is!"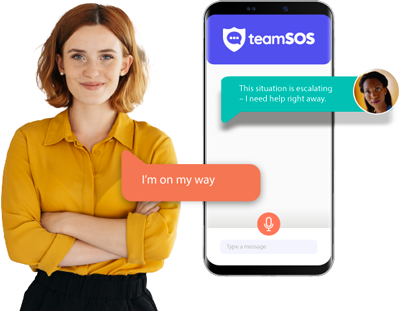 ---