School Energy Contract Renewals - Coffee Club roundup and recording

Thanks to all schools that attended our Coffee Club session addressing 'The School Energy Ticking Timebomb' with Tim Warneford and James Robson.
For anyone that missed out, never fear, as the summary and video below will give you the headlines and also the details.
Guest blog from Warneford Consulting
Over a 130 participants registered for the "Energy Ticking Timebomb" webinar hosted by School Business Services, co-presented by Tim Warneford and James Robson MD of Powerful Allies.

The level of interest was "significant but not at all surprising, given the unprecedented energy price rises, and the geo-political situation in Ukraine affecting gas supplies" said Leyla Tovey, SBS Managing Director.
Topic in brief
The webinar focused on the dilemmas facing all trusts who had not procured their energy contracts last year and are now facing enormous hikes in electricity and especially gas rates.
Schools Week and Times Education Supplement have both recently run with the story and TES quoted the DfE as saying that as energy costs only amount to 1.5% of a school's budget, the increase in costs was inconsequential.
Experiences of schools
The reality on the ground is very different as was highlighted by attendee Chris Hall, Director of Finance at Inspiring Primaries Academies Trust, who talked about the 'Hobsons's choice' facing schools.
He had been quoted a 24-month contract at a rate increase of 126% or a 12-month contract at a staggering 170% and that the decision will have consequences for teaching staff.
Stephen Morales ISBL CEO, was quoted in the TES article as seeming to favour a short-term approach, hedging bets by opting for a 12-month contract on the premise that rates will have dropped by next year and that schools taking out longer term contracts may regret being tied-in if rates do drop.
However, Chris O'Shea, Chief Executive of Centrica, has warned "there is no reason to think energy prices will come down any time soon and could be the norm for another 2 years".
James Robson questioned why a local authority framework did not meet best value due to its not exploiting market competition and further whether this procurement route met with DfE requirements of trusts to evidence 'robust governance and good financial management'. The best it can do is act as a tracker and this provides schools with very little protection from the large spikes in costs.
He further questioned the wisdom of commissioning energy brokers who 'cold call' and where no due diligence has been undertaken by the trust before appointing an unregulated energy broker.
The question of empowering such brokers with a Letter of Authority (LOA) was addressed and buyer beware caution advised.
Engagement in the webinar
The attendees participated in polls and submitted such a number of questions that not all could be answered within the one-hour session.
The webinar was recorded and will be available on the SBS, Warneford Consulting and Powerful Allies web sites, for those on half term or who would like to receive a copy.
Tim Warneford said that he hoped that the webinar proved educational and that he very much looks forward to providing schools with strategic advice in terms of energy procurement, management and funding for renewable installations and helping them achieve both cost and carbon savings.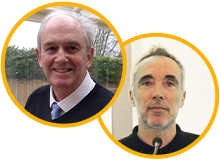 School Business Services works with a number of expert partners like Warneford Consulting and Powerful Allies, to help schools and academies have access to up-to-date information to ensure informed strategic financial planning.
The recording is available below and on our YouTube channel - please subscribe!
---