Beware! Microsoft Monthly Rollup - January Windows Server Patches
We have a series of insightful articles from our staff about their day-to-day roles - see more >

Please be aware of January's latest patches – KB5009624 and KB5009586 as they appear to break your Windows Server 2012r2 Hyper-V Hypervisor.
This causes disruption to schools due to the servers not loading. Please pass this information to your ICT/network representative.
Further information and guidance
Details: January 11, 2022—KB5009624, KB5009586 (Monthly Rollup) – Released: 11/01/22 (Affecting Windows Server 2012r2 Hypervisor)
You may notice that it puts all of your installed virtual machines into a saved state and when you go to start them it comes up with an error saying that the virtual machine could not be started because the hypervisor service is not running.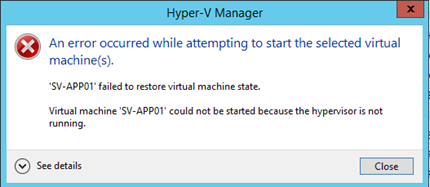 What we recommend for schools
If you try to start any of the Hyper-V services this will not work even if you do a restart of your server.
Please check your installed windows updates by going into Control Panel > Windows Update > then click 'view update history' and look for KB5009624/KB5009586 at the top under 'Review your update history' at the end of the sentence click on 'see installed updates' then find the update and then click 'Uninstall' – Give the server a reboot and then you will be able to start your VMs.
Contact us
If you require any support please contact the ICT Service Desk on 0345 222 1551 • Option 1 or email ictservicedesk@schoolbusinessservices.co.uk
---