New Remote Service - Primary Managed Assessment Service

We are now offering a NEW Remote Service - Primary Managed Assessment Service.
Here at School Business Services we know only too well that the burden on school staff is increasing and deadlines continue to come thick and fast. Our
MIS Remote Services
are designed so that our experienced team can carry out the processes for you; leaving you and your admin staff free to focus on other tasks.
About our Managed Data Service
Many schools invest time and money in third-party solutions to collect and analyse their data. However, did you know that you already have all the tools that you need in SIMS?
In a half-day session we will set up everything that you need to use the resources you already have. This includes adding the marksheets for all of your current year groups, checking that progress and tracking grids are set up properly and a 90-minute training session with your staff to ensure that your staff know how to use the marksheets.
We are also able to to promote all your students annually to ensure that you have consistent data service year on year.
What our Managed Service provides
Marksheets
A total of six marksheets will be provided (one for each year group), the marksheets include every signifivcant statutory assessment including EYFS, Phonics, Key Stage 1&2 scaled scores - Plus programme of study and Teacher assessments.
All marksheets can also be accessed on the SIMS Teacher App which provides further flexibility for busy teaching staff.

Each marksheet contains Low(Red), Medium(Yellow) and High(Green) attainment indicators allowing you to quickly see how your pupils are performing.
Progress is a key measure in school OFSTED inspections and using these marksheets provides a tool for schools to evidence to pupil attainment levels.
Marksheets can also be configured to show additional student information such as SEN status and Pupil Premium status. These marksheets are already available in your system and do not require any additional purchases. SBS can offer you training and consultancy to ensure these marksheets are setup and ready for you to use.
All marksheets will be set up and configured to your required specification, meaning that your school receives a tailored implementation to meet your assessment your needs.
Analysis and Tracking Grids
In addition to setting up the marksheets, we will also setup the tools you need to analyse the data you've collected to ensure that you can make the necessary decisions to help your pupils acheive.
The EYFS attainment Tracking Grids allow for the comparision of pupil attainment starting from baseline to half-term of your choosing. The Tracking Grids are colour coded to show whether your pupils are meeting their age-related expectations.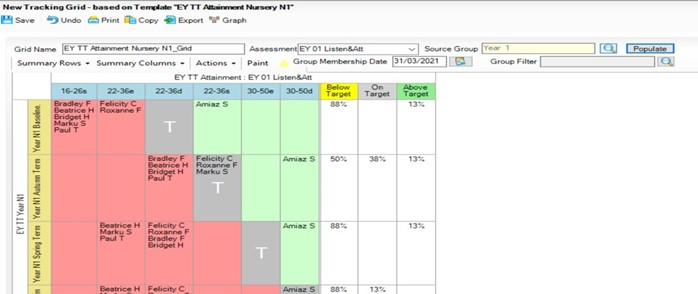 Tracking Grids allow you to quickly see a summary of student progress. Tracking Grids will calculate the metrics you need automatically rather than you having to do these calculations yourself or pay for expensive third-party applications to calculate them.
Programme of Study
The Programme of Study module allows Teachers to easily record formative assessment judgements against specific statements. This allows the school to easily track and demonstrate what pupils know and don't know in relation to the National Curriculum. This will be setup as part of our Managed Data Service.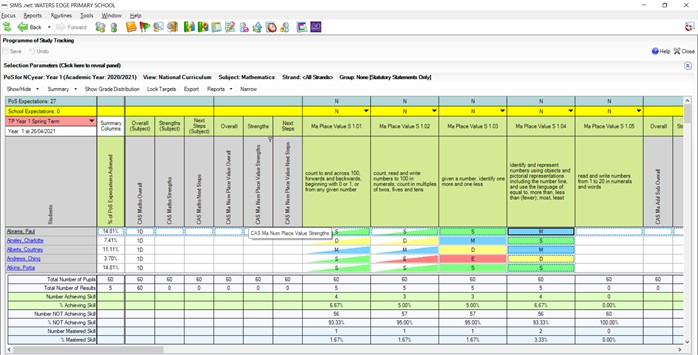 The cost for the Initial set up and training is £350 and £95 for the Academic promotion into the New AY.
You can use 1/2 day SLA time if you have a Service Level Agreement (SLA) with us.
We are offering a discounted price of £525 as a 3 year package.
You do not need to be an existing SBS customer to book this service. Take a look at the
Remote Services page
for more detail on this and the other remote services we have available. Contact our MIS Service Desk on
0345 222 1551 • option 3
to speak to one of our Senior Consultants regarding your Assessment needs or email
MISservicedesk@schoolbusinessservices.co.uk
to discuss this further or to book a service.
---