SIMS - Upcoming changes to supported SQL Versions

Feel free to contact us to book your SQL migration
Capita's Roadmap for SIMS.net shows that Support for SIMS on 'SQL Server 2012' and 'SQL Server 2014' will come to an end after the Spring 2022 Release of SIMS.
We advise that all schools using SIMS.net should be using 'SQL Server 2016' by the Summer of 2022.
What is SQL Server?
Microsoft SQL Server is the Database management software used to manage the SIMS Database on the school's SIMS Server and is required to provide access to the SIMS Database.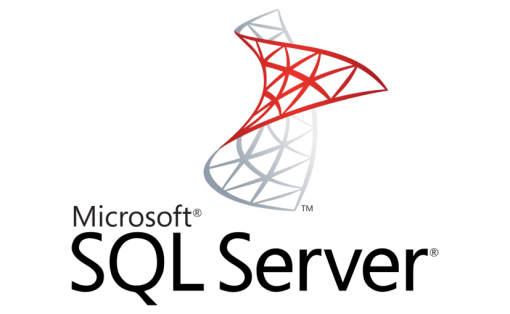 ---
How to check your SQL Server Version
If your school has had a new SIMS Server installed or upgraded by SBS within the past 2 or 3 years, then you are likely to be already on the last supported version of SQL Server. (SQL Server 2016) You can check your current SQL Server Version from within SIMS. Select "Help" from the top SIMS Menu, and then Select "System Information". The SQL Version will be listed next to "SQL Server Version" and will show similar to "Microsoft SQL Server 2012".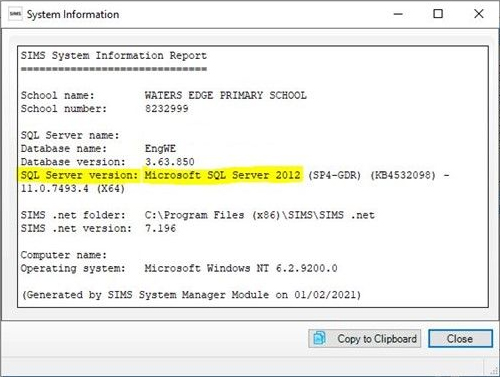 How to upgrade to SQL Server 2016
If you are using SQL Server 2012 or SQL Server 2014, then you will need to book in an 'SQL Server Migration'. This is a process where a New SQL 2016 Instance is installed onto the SIMS Server and your SIMS database migrated across onto the new SQL software. This process will likely require some small changes on the SIMS workstations and will also require updating the connection details on any third-party applications used to connect to SIMS. SBS can carry out the SQL Server Migration remotely with minimal downtime to SIMS access. This can either be carried out using SLA time your school or Trust may have on their MIS support contract with SBS or can be arranged as one-off billable work. If you are not supported by SBS for SIMS, then we can also help your school/ICT Team with carrying out this work. Please get in touch if you would like to discuss this further.
Book SQL migration →
What happens if we do not upgrade SQL Server?
If the school is still running SQL 2012 or SQL 2014 after Summer of 2022, then there is no guarantee that future SIMS Upgrades will work with these older versions of SQL Server. To ensure that your school can continue receiving the latest versions of SIMS after Summer 2022, please check your SQL Server Version and book in an upgrade if required.
Supported Windows Operating Systems for SIMS
Capita stopped support for Windows Server 2008 and 2008R2 in Sumer 2020. If your school is still using Windows Server 2008 then we recommend either upgrading the Operating System or migrating SIMS onto a new Server. SIMS is currently supported by Capita on the below operating Systems.
Windows Server 2012 & 2012R2. (Microsoft support is expected to end on 10/10/2023.)
Windows Server 2016.
Windows Server 2019.
Migrating SIMS to a new SIMS server does require some more planning then migrating the SQL Server Version, but SBS can help here as well. Please let us know if you want to discuss or arrange migrating SIMS to a new server.
Contacting us
To to discuss any of the information in this blog or to book an SQL Migration, please contact us by Phone or Email. Phone – 0345 222 1551 (Option 3) or
MISservicedesk@schoolbusinessservices.co.uk
---