SBS Online update - More assistance and clarity for users!

SBS Online is evolving to provide more assistance and clarity for our budgeting customers
New functionality ready for the summer and new school year. Plus, track all changes to your school budget with SBS Audits!

We're particularly proud of expanding our pioneering Analysis Tags functionality to include the Funding Predictor and introducing enhanced reporting to our Student Contracts module.
The updates in full are:
SBS Audits - available now!
Two factor authentication - unique to SBS!
Maternity calculation improvements
Missing notes on PDF files
Funding Predictor tag editing
Increased students contract limit
Increased student members limit
Auto trigger of CSV exports added for all large reports
Editing of internal transfers
Improvement to password reset email
---
A few updates in detail
SBS Audits - available now for SBS Budgets users!
It is finally here! We are happy to unveil the new audit trail. This is available against items in SBS Budgets and as a module from the SBS Online welcome screen. Users will now see a new module called SBS Audits.
In this module you will be able to see a myriad of actions in each individual planner, including when a contract is created, a budget entry is edited, and an inflation is updated. Within SBS Budgets there is also an Audits tab, to see individual changes to contracts, budget entries etc.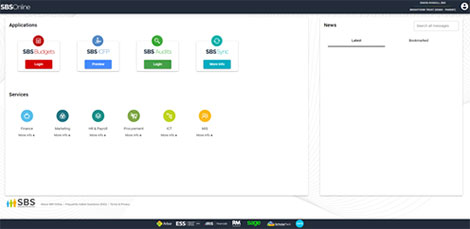 Two factor authentication - further improved security!
Included in the new welcome screen is an optional two factor authentication, selecting the username in the top right and clicking manage profile will take you to a new tab, click on two factor authentication and simply follow the prompts. Once done whenever you log into the SBS Online welcome screen, a code will be required from the authentication app.
Maternity calculation improvements
Maternity has been updated; a new table will now be available in your Budget Settings which includes the rebate values. For any staff on a single contract, this table will include the rebate calculations during the maternity period. If you have anyone with more than one contract or have any questions, please contact the Service Desk who will assist.
Accessing SBS Online
To login into SBS Online, please use the link at top left of the SBS website (https://www.schoolbusinessservices.co.uk/) next to the social media icons. Users will need to use their email and use the reset password link to login. Please let the Service Desk know if you have any issues.
Contact us
If you have any questions or requests about SBS Audits and any of the SBS Online updates please contact us on 0345 222 1551 • Option 5 or email hello@schoolbusinessservices.co.uk
---
You may be interested in our Budgeting focus groups
We're making further improvements to our system, and want your opinions! We're delivering these sessions to involve you, the users, in the rewrite of SBS Budgets.
---