Urgent action required for Capita SIMS Pay

Action required by June 30th for Capita SIMS Pay customers
Capita have provided an urgent message for all Capita SIMS Pay customers. Please read the below if you use this product as it will have a significant impact if schools don't do what is required. The message includes useful links to Capita blogs on the subject, and one link at the very bottom for further information.
---
-----------Message from Capita begins-----------
Take action by 30 June 2019
Dear Customer, Earlier this month, we wrote to you to let you know about some upcoming changes to the way payment services will be provided through your SIMS Pay portal. On 1 May, your payment services transferred from Capita Business Services Limited (CBSL) to Pay360 Limited, trading as Pay360 by Capita. If you missed our previous email, you can read full details of the transfer in our blog post. To re-cap, the changes ensure Capita's compliance with the Financial Conduct Authority (FCA) regulations as specified in the European Union's (EU) Payment Services Directives 2016 (PSD2) and will remain part of UK law regardless of the outcome of Brexit. In our previous email, we outlined how the change would affect you and how best to communicate the change with your school's parents in order to minimise confusion. We also referred to an element of the new regulations which places a legal obligation on us to perform customer due-diligence, also known as 'Know Your Customer' (KYC) checks. This email explains in detail the KYC checks and, most importantly, what is required from you in order to ensure a smooth transition and no disruption to payment services.
What you need to do
To comply with the FCA regulations, we have a legal obligation to perform customer due-diligence, also know as 'Know Your Customer' (KYC) checks. To allow us to complete our KYC checks, please provide the following documentation by Friday 28 June from both your school Principal and an Administrator (this may be your Deputy Head, Office Manager, Business Manager, or any other person authorised to act on behalf of your school). Proof of identification – a clear, legible copy of one of the following: - - Valid passport or; - Valid driving licence or; - Government-issued photo ID AND Proof of residential address – a clear, legible copy of one of the following documents bearing their full name and residential address: - - Utility bill less than 6 months old (mobile phone bills are not accepted) or; - A statement from their bank, building society or recognised credit institution or: - Any original correspondence or government-issued document from a central or local government authority, department or agency, in which their residential address is provided Please upload your KYC documentation via this link There's no need to wait until all the documentation has come in – you can use the link multiple times, allowing you to upload files as and when you receive them. If you use the 'Refund to Card' feature in SIMS Pay and would like to continue to use this, please download this Pay360 Limited Direct Debit mandate – once you have completed all the relevant information, please upload it to this site.
What happens if you don't act
Because of the regulatory nature of this change, it's crucial that you provide the requested documentation in good time. We'll work with you throughout the process to support you in putting together the required information. Delays in providing the documentation may lead to us being unable, for legal reasons, to continue processing your customer payments online and through Pingit, PayPoint or the Post Office using our payment platform. We may also be unable to make payments to your or your suppliers. To avoid any interruption to your service, we'll keep in touch with you throughout this process and will be on hand to provide advice and guidance.
In summary
Next steps – to be completed by Friday 28 June - Collect the requested KYC documentation for upload to the
Pay360 secure document portal
- If you wish to continue to use 'Refund to Card', complete the
Direct Debit Mandate
and upload it using the
Pay360 secure document portal
Should you have any questions or require support on any element of the process, please contact our Helpdesk (details below). Kind regards, Andrew Godley Head of Risk and Finance Operations, Pay360 by Capita
Find out more in the Capita blog >
-----------Message from Capita ends-----------
Have a question about this blog?
As always, let us know by email misservicedesk@schoolbusinessservices.co.uk or by phone on 0345 222 1551 • Opt 3 if we can help you in any way.
---
You might also be interested in:
SIMS Health Checks
In addition to our SIMS Training Courses, we can provide a comprehensive SIMS Health Check to evaluate and ensure SIMS is used effectively and efficiently at your school.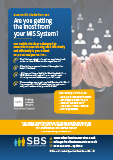 Find out more →
Contact us →
SIMS Remote Support
Are your staff too busy? Do you have key staff off? Have you got the SIMS expertise? We can help! Gain peace of mind that your statutory returns and tasks are taken care of by the SBS team.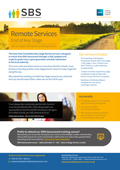 Find out more →
Contact us →
Data Manager Role
For schools that find themselves in need of a Data Manager our experienced MIS team is on hand to provide emergency cover or be deployed as part of a long term school improvement strategy.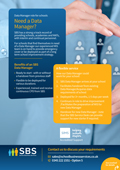 Find out more →
Contact us →