Accredited Support for all leading MIS products
Did you know? The SBS MIS Service Desk offers help desk, phone and email support for Arbor, Bromcom, IRIS Ed:gen, ESS SIMS and ScholarPack.
MIS is an everchanging landscape with many challenges, so why not choose a partner that supports them all!
---
Why choose SBS as your support provider:
Accredited: we are accredited support partners of all the leading education MIS Systems including Arbor, ESS SIMS, Scholarpack, Ed:Gen and Bromcom
Agnostic: we believe in choice; therefore, we support the major MIS systems. If you choose to move yours, we move with you at no additional cost
Available: we have scaled and tailored our support and service desk to ensure we can support and offer expertise from small schools to the largest Multi Academy Trust
Affordable: we offer a support service that is friendly, informative, efficient and cost effective
Find out more
---
---

---
Contacting us
As ever, if you have any questions about how we work with schools please feel free to contact our team on
misservicedesk@schoolbusinessservices.co.uk
and 0345 222 1551 | Opt 5.
---
SBS Essentials for MIS and Finance
How will your statutory returns be submitted on time when you're short-staffed?
We've got you covered!
We'll submit your statutory returns on your behalf. Spend your time on more strategic and fulfilling work, with peace of mind you'll never miss a deadline.
MIS Essentials
Finance Essentials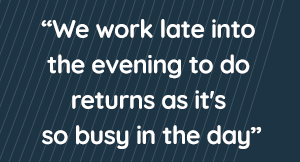 ---