SBS School Improvement Suite (SIS) Reporting
Posted
16th September 2021

What is School Improvement Suite (SIS)?
Identifying where your school and students are struggling can be challenging in different areas of SIMS; printing reports, copying data from spreadsheets, or trying to see key data within SIMS can be difficult.
Here at SBS we believe surfacing and visualising your MIS data can make an educational impact within your school, so we have developed a suite of Power BI reporting to assist with school improvement, identify key areas within your data, and make informed decisions for your school to aid school improvement. SBS are offering a combination of reporting in Power BI and consultancy that will allow you to easily spot problem areas across your MIS data.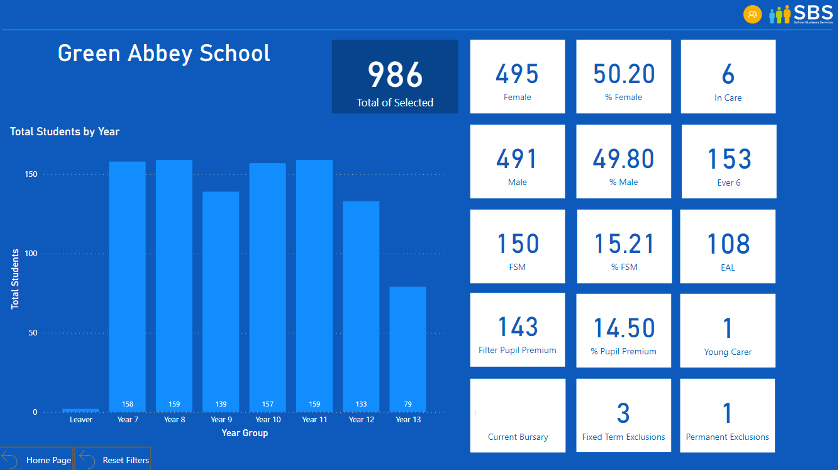 So how do I get SBS SIS reporting for my school or trust?
Firstly, an expert consultant will arrange a remote session with you to install our custom Power BI reporting suite, then ensure that the SIMS data required is imported and updating automatically on a regular basis.
From here you will have the benefit of a one-on-one consultancy with one of our school improvement experts who will help you to understand the data and how you can use it. This will involve a discussion with your school's SLT to assist in creating the interventions and strategies that will work for your individual school. We know that there is no such thing as "one size fits all" when it comes to school improvement.
Do you offer training as well?
Once data is populated, we will give you and your staff an overview of Power BI, visualisations and (your) data overview, how to drill down into your data, filtering on selected criteria and leverage your data in Power BI like you have never seen before!
How much will this cost?
The full School Improvement Suite (SIS) of reporting is £975 per school, this will include setup, install, data extraction & import and overview training for your school. Our Power BI data team are also working on phases 2 and 3 set of SIS reporting, more detail to come regarding these!
Can I look at some of the reports?
---
If you would like to discuss how our range of services could be used to benefit your school or MAT, please call 0345 222 1551 | Opt 3 or email MISservicedesk@schoolbusinessservices.co.uk
---
You may also be interested in our latest MIS videos
As a foundation for school business continuity and collaboration we've also provided videos about:
on-demand videos
and
live interactive webinars
to follow across our services.
---