Nova T6 Surgery - Stuck with this year's timetable?

Let SBS help you with your timetabling problems.
We have experienced Nova T6 timetablers to partner with you and guide you through issues encountered along the way.
From time to time a new or experienced school timetabler may need to discuss situations encountered during their scheduling with someone who has been there and understands the issues and frustrations timetabling may offer. These issues can range from a change to a two week timetable, or "It's a year since I did this and I've forgotten how to start", to screens like these.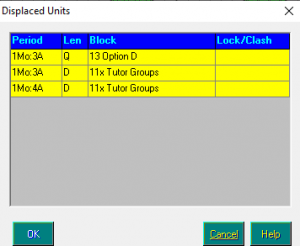 ---
You can book 60 minute blocks of time where we can arrange to talk you though these challenges and try to solve or suggest approaches to finding solutions. Some problems appear impossible in the way they present themselves and the ability to share and talk these though often leads to parameters being changed and solutions found. Each 60 minute block will cost £50 (or you can use your existing SLA allowance) for one of our experienced timetablers to assist you with whatever challenge you have come up against. Obviously everyone has issues unique to their establishment and this is why we are offering this form of support especially as with the current isolation, problems can take on enormous proportions.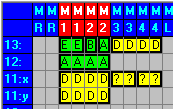 ---
If you need any assistance don't struggle in vain, please feel free to call us on
0345 222 1551 • Opt 3
or email
MISservicedesk@schoolbusinessservices.co.uk
---
Keep an eye out for our full remote Nova T6 timetable training coming soon!
This course is being developed from the ground up so that it gives you the same experience as our formal training but with the new remote world in mind.
---
Further support for your team from SBS - Remote School Back Office
As an alternative to
onsite
support, we are adept in providing support for our schools in the following methods:

Login to our self-service suite from your device
Working from home? Need access to your school or MAT budget? Planning for the future?

Software includes:



Find out more →
Contact us →

Our expertise delivered from our offices (or homes!)
Need peace of mind for adhoc troubleshooting? Limited desk space in the school office? Considering outsourcing daily school operations?

Our offsite school support services include:
Service Desk support across

Finance

,

HR

,

ICT

and

MIS

for adhoc troubleshooting and advice
Remote Managed Services for sustainable day-to-day operations
Hardware and software procurement
Payroll management
Webinars and remote 1-1 training
Find out more →
Contact us →
---