The SIMS Summer Census will be on Thursday 16th May this year.
Congratulations, you've survived 2 of them, and only one more to go for this academic year.
The final census of the year is traditionally known as the easy one, with no post-16 work, and no class details required. As always, you can find all the documents you need below along with your key dates.
---
Preparing for the Summer Census
Primary, Special & Nursery Schools
Secondary
Producing the Summer Census
Nursery
Primary
Secondary
All-Through
Special
PRU
---
Important dates in the Summer collection
Attendance collected from 01/01/2019 to 21/04/2019
Exclusions collected from 01/09/2018 to 31/12/2018
Free School Meal Eligibility collected from 18/01/2019 to 16/05/2019
Learner Support collected from 01/08/2018 to 16/05/2019
---
Downloading & Applying a Fileset
Please note: A new Fileset 1202 has been released by Capita ready for your School Census. This new fileset solves a variety of validation errors and contains the latest DfE information.
Please check that you have had your SIMS upgrade and are on SIMS version 7.186 and then import the latest file.
Should you wish us to import the fileset for you please contact our SIMS Service Desk on 0345 222 1551 • Option 3 or email MISservicedesk@schoolbusinessservices.co.uk
Please note: There will be a new fileset coming out that fixes the following issues which is due out next week. Please keep your eye on the blog as we will post when this has been released.
Correction to the coding of validation rule 1852 so that it deals with four year-olds correctly.
Correction to the message provided by rule 1861.
Removal of the word 'Beta' from the summary report heading.
---
Should you require an onsite consultancy visit to help you with the running of the school census or wish to book our Census Remote Service then please call us on 0345 222 1551 • Option 3 or email the SIMS Service Desk.
---
You might also be interested in:
SIMS Health Checks
In addition to our SIMS Training Courses, we can provide a comprehensive SIMS Health Check to evaluate and ensure SIMS is used effectively and efficiently at your school.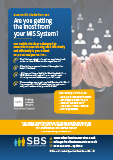 SIMS Remote Support
Are your staff too busy? Do you have key staff off? Have you got the SIMS expertise? We can help! Gain peace of mind that your statutory returns and tasks are taken care of by the SBS team.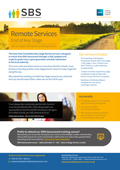 Data Manager Role
For schools that find themselves in need of a Data Manager our experienced MIS team is on hand to provide emergency cover or be deployed as part of a long term school improvement strategy.