Meet Marcus - Supervisor of the SBS Online support team

Following a series of insightful articles from our staff about their day-to-day roles, including a member of the budgeting support team, we wanted to introduce the SBS Online Supervisor, Marcus Peedell. Thank you Marcus!
As ever, if you have any questions about how SBS Budgets and its support team could help your individual school or trust please feel free to contact our team on sbsonline@schoolbusinessservices.co.uk and 0345 222 1551 | Opt 8.

---
Professional Insight
Hey! My name's Marcus and I am the Supervisor of the SBS Online support team.
I have been at SBS since December 2019, starting off as a Finance Service Desk Consultant before moving into my current role in June 2021.
After obtaining a degree in Sport & Exercise Science at the University of Winchester, I found employment with an independent invoice finance provider back in my hometown of Reading.
5 years were spent there, starting off as a Credit Controller before progressing to a Client Manager. This involved overseeing circa 50 SME clients, managing the risk and relationship with regards to their invoice finance facilities. Following this, I made the move down to the south coast and that is where I found SBS.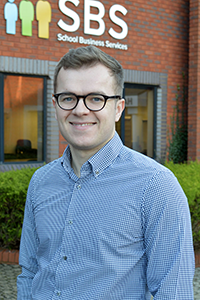 Outside of work, you'll see me supporting the mighty Reading Football Club as well as taking my cocker spaniel, Hugo, for a muddy walk in the Dorset countryside.
Mission critical; sector vital
My background in commercial finance has taught me a lot about the mission critical role that intuitive systems, integrated software and team collaboration plays in ambitious organisations. Working at SBS to support education sector finance has enabled me to apply these principles to running a cohesive team and delivering a trustworthy customer experience through understanding how the financial stability of schools and MATs provides a foundation for enhanced teaching and learning.
Instilling an ethos
We're passionate about improving schools' finances through enhanced management and planning. As set out by the SBS company values, the SBS Online department pride ourselves on listening to our customers when it comes to development. Significant improvements and additions to our product offering have been released as outlined in last week's blog. Users now experience improved MAT functionality, allowing them to update settings centrally. As well as this, there is now a new self-help portal SBS Assist, providing users with easy access support at their fingertips.
The grand scheme via the day-to-day
Being an SBS Online Supervisor, I am responsible for day-to-day team management, ensuring quality service delivery of Service desk, implementation, and training as well as acting as an escalation point for customer enquiries and support priorities. This enables a sustainable high impact solution for both our schools and our team.
To provide a positive customer experience, it is important that the team you have around you is a strong one. With the SBS Online team that is certainly the case. Each member of the team are experts in their roles, ranging from Senior Consultants to Service Desk Assistants. Customer satisfaction is our number one priority and whether you're a new or existing customer, or even just simply making an enquiry, our approach remains the same. The support team are easily contactable between the hours of 8am and 5pm, whether that be via phone or email, so if you do need to get in touch, make sure you have all the relevant information to hand so that we can support you as quickly as possible.
Contacting me, contacting us
There are a lot of positive budget management enhancements coming out of the SBS Online team at the moment and if you do want to be part of this exciting journey or have any questions for the team, please get in touch me and the team on 0345 222 1551 opt 8 or sbsonline@schoolbusinessservices.co.uk. Do remember we have qualified staff for the wider Finance & Accountancy needs of schools and MATs via one of our a multi-software accredited services. For anything else, say 'hello' to hello@schoolbusinessservices.co.uk
---
Not an SBS Budgets user yet?
Join the club! You'll love our software. We believe in developing software that supports your vision.
---
Recent blogs from the SBS Budgeting Team
The SBS Budgets Spring Update brings three significant enhancements for process streamlining, software integration and staff CPD - Read now >
Did you know SBS Budgets also integrates with Arbor MIS and IRIS Financials? - Read now >
SBS Budgets update - National Insurance, Maternity Pay and Temporary NJC Increase 2022/23 - Read now >
Lynne Higginbottom, Bursar, reflects on her professional journey and experience with budgeting solutions - Read now >
Contact us
If you have any questions or requests please contact us on 0345 222 1551 • Option 5 or email hello@schoolbusinessservices.co.uk
---