Here are just some of the changes to look out for in the SIMS Autumn Release
Improvements to SIMS Assessment
The developments in assessment have been made with teachers in mind; improving usability and navigation.
Key updates include:
Linking the Programme of Study (PoS) to Curriculum year, enabling teachers to select curriculum content applicable to the ability of pupils in class, particularly to support those children working below age-related expectations.
The ability for teachers to easily create marksheets within the PoS area to review summative assessments only for the term.
The KS3 curriculum has also been included so any secondary school can further explore the PoS area.
PoS assessments can now be included in CTFs transfer if the school chooses to include it e.g. from primary to secondary transfer.
PoS is now included in SIMS Teacher app, enabling on-the-fly recording of achievement.
Additional Rising 2s resources for nursery schools
Two new Year Groups are now available to help schools deal with the increasing number of pupils being recorded in SIMS who are rising 2. Year E1 and Year E2 (Early Years 1 and Early Years 2) can be added to the Pastoral Structure and new relaxed rules in the school promotion will allow pupils to be promoted from Year E1, to Year E2, to Year N1 and then to Year N2.
SEN – Needs History
The SEN Needs panel has been renamed to 'Current Needs' and SIMS will now store a date history of all needs rankings and changes. The School Census will collect the rankings as at Census Day i.e. 21/01/2016.
Child Care Enhancements
Schools can maintain details of their childcare provisions at any time during the year, rather than just at Summer Census time. Childcare provisions are now maintained within the School Details page and items can be added, edited and deleted.
SIMS Learning Gateway (SLG) – new Homework Timeline for teachers
A homepage widget is now available to allow teachers to view their own homework. The My Homework Timeline on the SIMS Homepage now displays a green progress bar at the bottom of each homework task, indicating the percentage of pupils who have handed in their homework.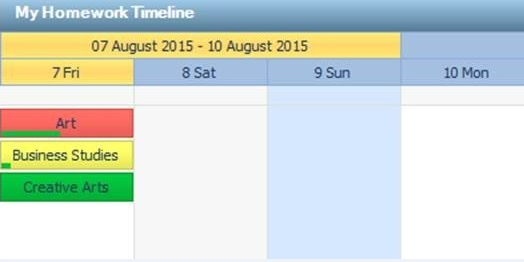 What if I haven't completed my Autumn Census?
We recommend that once the SIMS Autumn Release 2015 is made available, you delay the upgrade until you are able to confirm that the DfE has accepted your Autumn Census.
When to upgrade
We'll be in touch to schedule a date for your school to receive the release, but you can contact us if there is a particular date that you'd prefer. Please remember though, your school will need to be on SQL 2012 or 2014 before this upgrade can be applied.
To discuss any of the above in more detail speak to your SBS consultant or call the Service Desk on 0345 222 1551 • option 3.